With the change of authorized camouflage paints from 5-D and early versions of 5-O and 5-H, to new Blue-Gray paints made from a white base that different amounts of tint was added to produce 5-S, a new 5-O, and a new 5-H. Also new camouflage measures were introduced and most of the older ones were deleted.
The Pacific Fleet Command, issued orders for a DesDiv to be painted in the new measures, plus a new experimental paint called Sapphire Blue. DesDiv 9 was selected for the experiments since they were in overhaul at MINY and could get the new paints mixed for the evaluation. The descriptions of the camouflage measures and which units had the schemes applied varied throughout the next few months.
DesDiv 9 designated on 29 August 1941 to wear the following measures;
Ms 1A (5-S),
Ms 2A (5-S, 5-O, 5-H, 5-L),
Ms 12A (5-S, 5-O, 5-H),
Ms 1B (Sapphire Blue)
The Sapphire Blue paint was available until mid-September 1941, and the destroyers in DesDiv 9 didn't finish their overhauls and get painted until mid-September as well. Evaluations didn't start until mid-October, plus USS PORTER's overhaul and King Board modifications weren't done until early in November 1941, so she wasn't available for the first observations.
The assignments of which measures were applied to each destroyer and a brief description of modifications made to the paint used, which had to be used as substitutes for unavailable paints. Also, note the notation used for each measure changed over time.
As of 6 October 1941 memo;
DD-356 PORTER Ms 1A (5-S)
DD-364 MAHAN Ms 12A
DD-366 DRAYTON Ms 1B (Sapphire Blue)
DD-367 LAMSON Ms 2A
DD-368 FLUSSER Ms 1A (5-S)
As of 15 January 1942 dated memo, which was drafted MUCH earlier. Evaluations started in mid-October 1941 and probably was drafted soon after;
(DD-356 PORTER wasn't listed because she was still in overhaul)
DD-364 MAHAN Ms 12 (5-S, 5-O, 5-H) and 5-S applied to decks
DD-366 DRAYTON Ms 11 Mod (Sapphire Blue)
DD-367 LAMSON Ms 2 Mod (5-S, 5-O, 5-H) and 5-S applied to decks
DD-368 FLUSSER Ms 11 (5-S)
As of 18 January 1942 dated memo (corrected);
Note that USS FLUSSER was NOW stated to be painted in 5-N. on 21 November 1941, PacFlt Command directed that a destroyer in DesDiv 9 be painted with the "new" 5-N paint. USS FLUSSER (DD-368) was selected. She arrived at PH on 26 November 1941 after escorting USS LEXINGTON and departed on 5 December 1941, with the USS LEXINGTON Task Force.
DD-356 PORTER Ms 11 (5-S)
DD-364 MAHAN Ms 12 (5-S, 5-O, 5-H) and 5-S applied to decks
DD-366 DRAYTON Ms 11 Mod (Sapphire Blue) and 5-S applied to decks
DD-367 LAMSON Ms 2 Mod (5-S, 5-O, 5-H) and 5-S applied to decks
DD-368 FLUSSER Ms 11 (5-N) applied to all vertical and horizontal surfaces
The evaluations for these destroyers wasn't as well organized in respect to ALL of them being evaluated on the same day and place. A 16 October 1941 dated report for USS DRAYTON (DD-366) with her Sapphire Blue paint occurred on 14 October 1941, during passage of USS LEXINGTON from Mare Island to San Diego and then Pearl Harbor. The units of DesDiv 9 escorted USS LEXINGTON during this passage.
21 November 1941 Speed-o-Gram that lead to USS FLUSSER being repainted with 5-N at PHNY
The only known color Image of USS DRAYTON (DD-366) taken on 14 October 1941.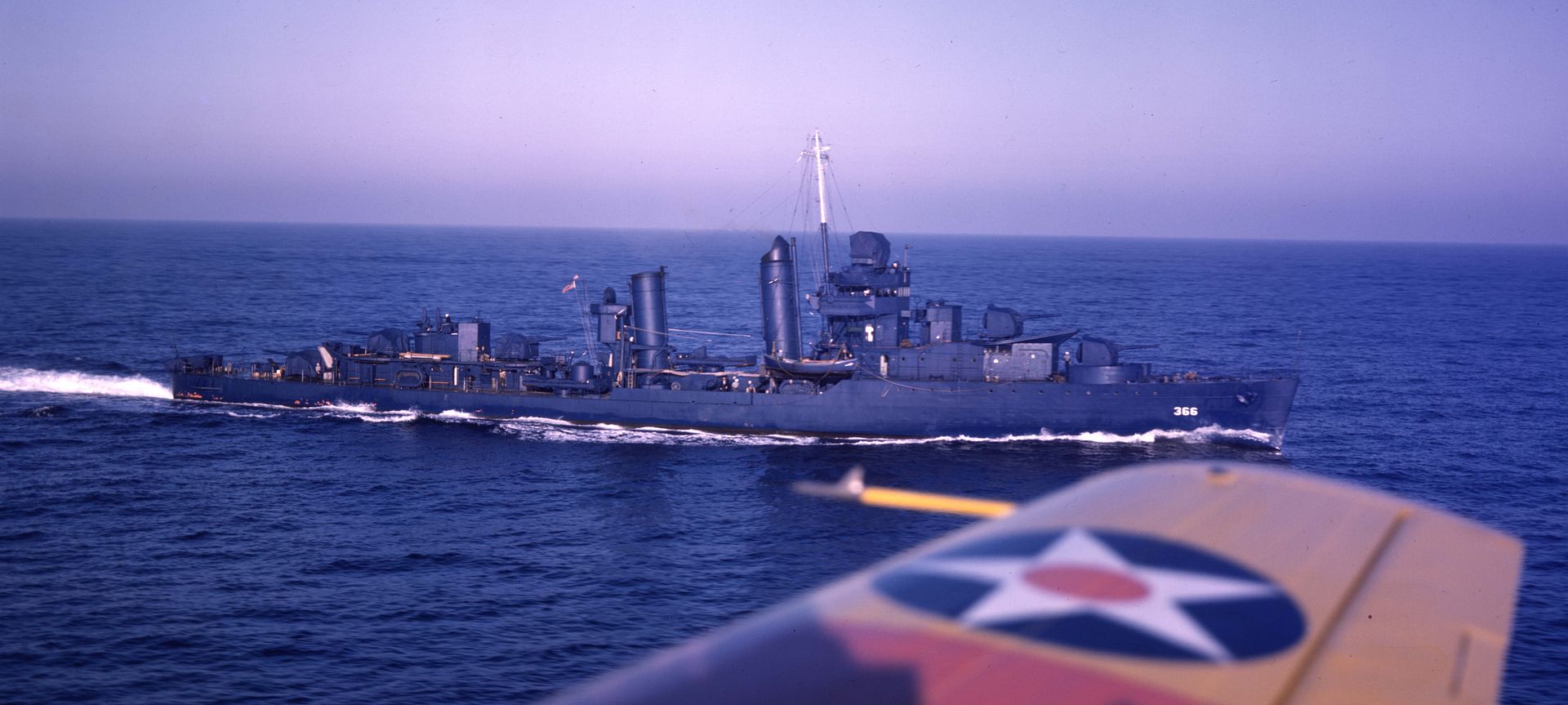 B&W photos of USS DRAYTON (DD-366) take on 14 October 1941 as part of a series of photos.
A B&W photo of USS FLUSSER (DD368) taken on 14 October 1941, while she was wearing 5-S all over including her decks. After the USS LEXINGTON TF arrived at PH from San Diego on 19 October 1941, USS FLUSSER was assigned as a "fill-in" to escort USS ENTERPRISE during an exercise. The second photo shows USS FLUSSER when she was alongside USS ENTERPRISE dated 20 October 1941, but from Deck Logs, likely the date is 25 October 1941. FLUSSER was picking up ammunition from USS ENTERPRISE for USS LEXINGTON.
B&W photos of USS PORTER (DD-356) on 3 November 1941 at MINY as she was finishing her overhaul. She was painted with 5-S paint at this time. Note the two MAHAN Class destroyers in the background, the one to the left is USS PRESTON (DD-379). Note that she has an upper band of what looks like 5-D paint, but has lighter paint below that band.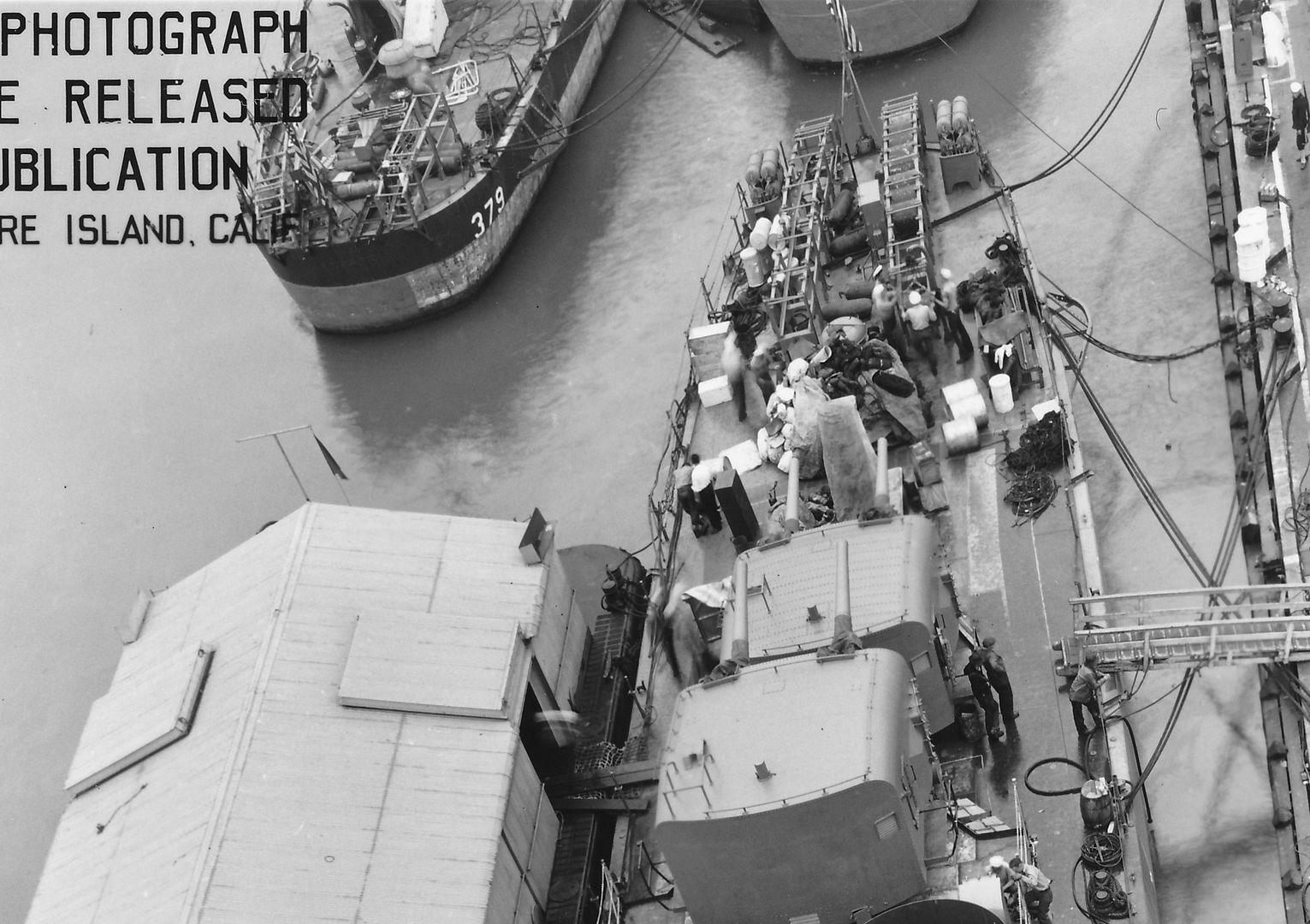 I don't have good views of USS MAHAN (DD-364) and USS LAMSON (DD-367) while they were painted in the graded schemes. However, this image shows USS MAHAN in the process of being painted with 5-N. Note that her lower hull was already painted with 5-N and shows worn and faded areas. Further, notice crewmen are atop the forward funnel applying 5-N paint. This points to the likelihood that USS SHAW still is wearing 5-O on her superstructure and above the 5-N band on the lower hull. Question is when did USS SHAW repaint the 5-S lower band with 5-N prior to her yard period?
USS MAHAN (DD-364) on 28 April 1942, at MINY.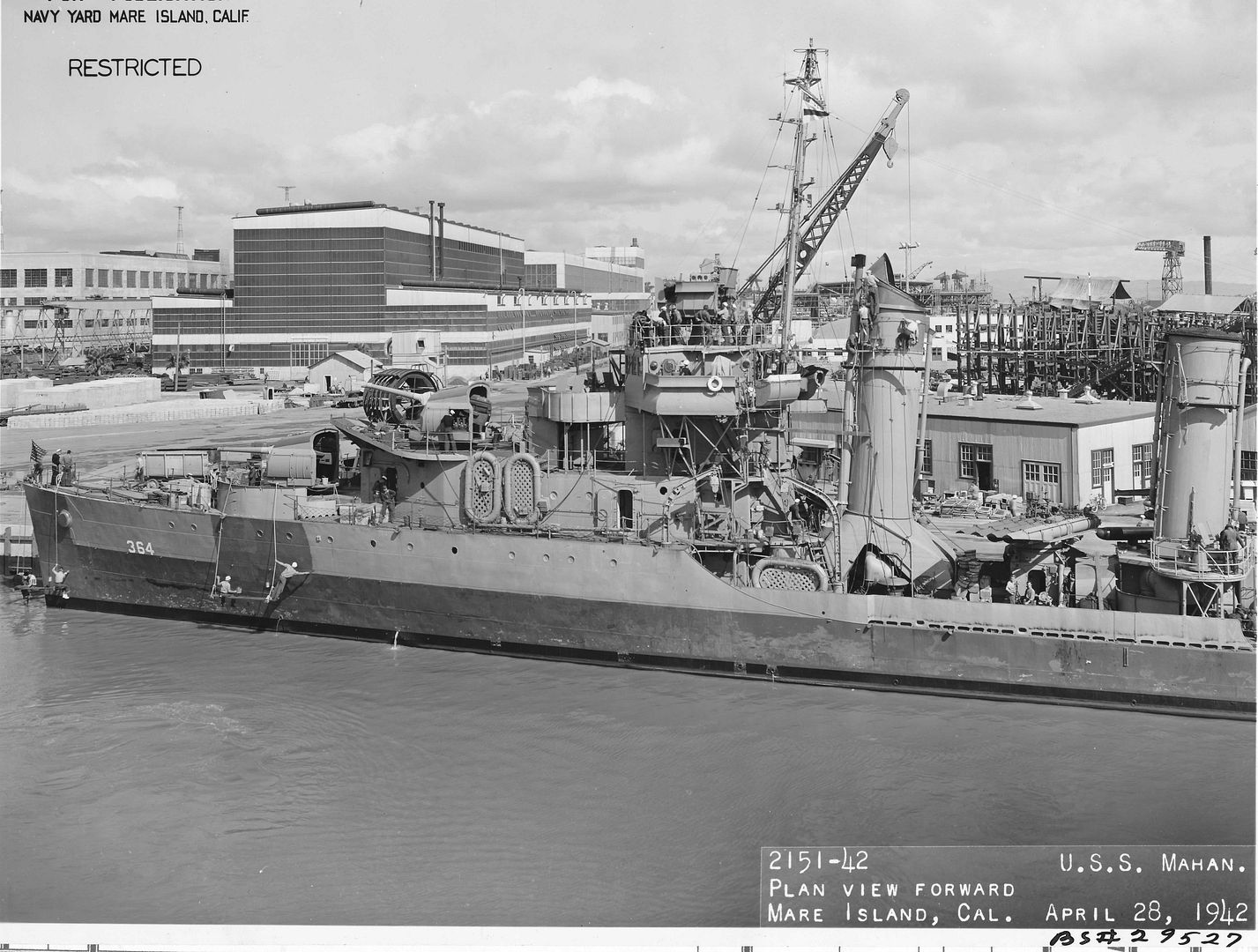 USS DRAYTON (DD-366) on 14 April 1942 at MINY after overhaul/upgrades accomplished. She likely was repainted with standard 5-N by the time of this photo. Note her hull paint. The hull apparently shows application of 5-N in multiple areas and not a uniform appearance. Also, some wear to the paint can be noted.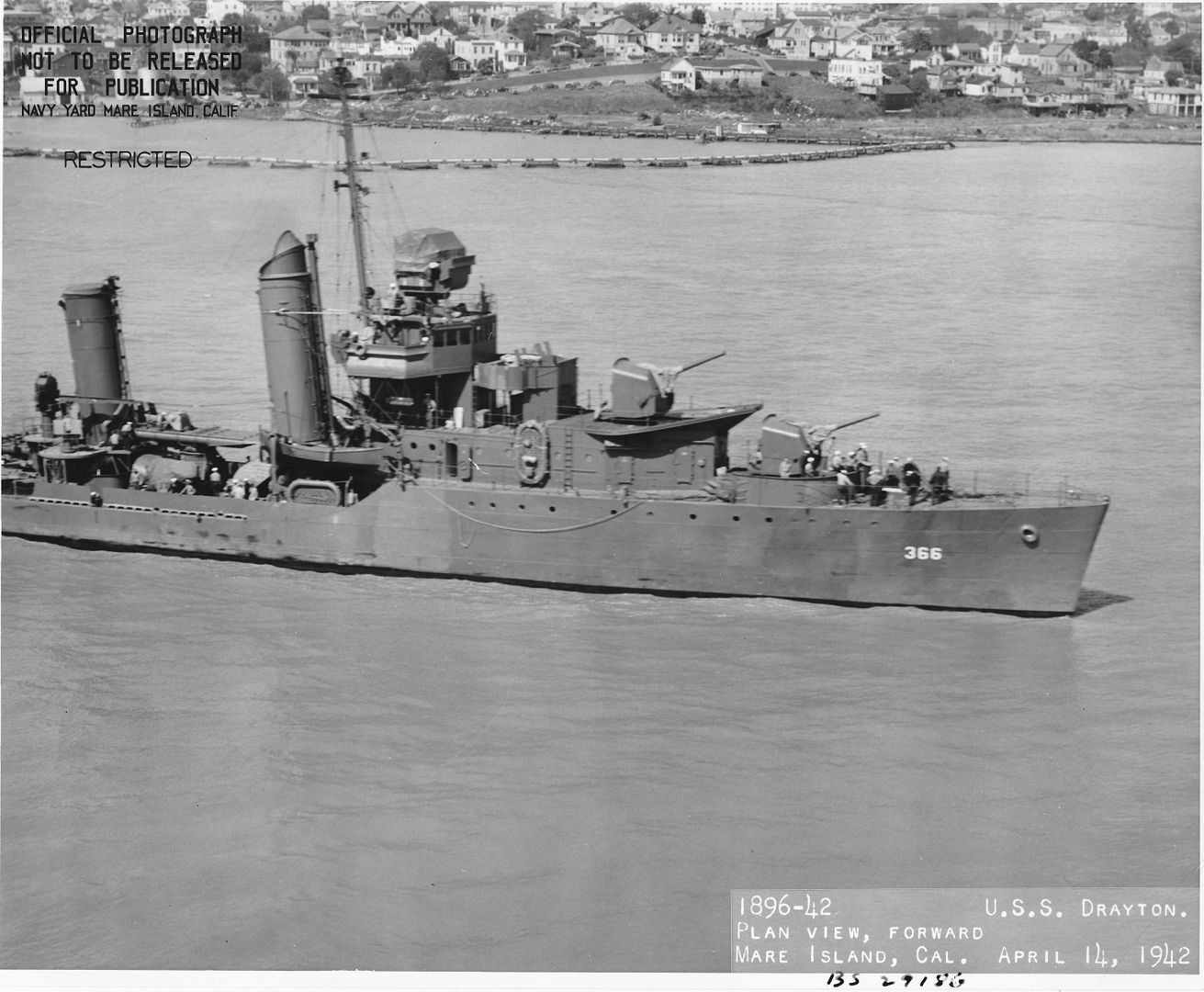 Something that was interesting in the 16 December 1941 directive that made Ms 11 w/5-N paint the standard camouflage scheme for use on PacFlt surface ships. The directive specifically exempted the "experimental measures" applied to the DesDiv 9 destroyers, USS FLUSSER, USS LAMSON, USS MAHAN, andUSS DRAYTON, plus USS PORTER. That would explain why either USS MAHAN or USS LAMSON, appears in the background of this photo most likely dating from the carrier raids in February-March 1942.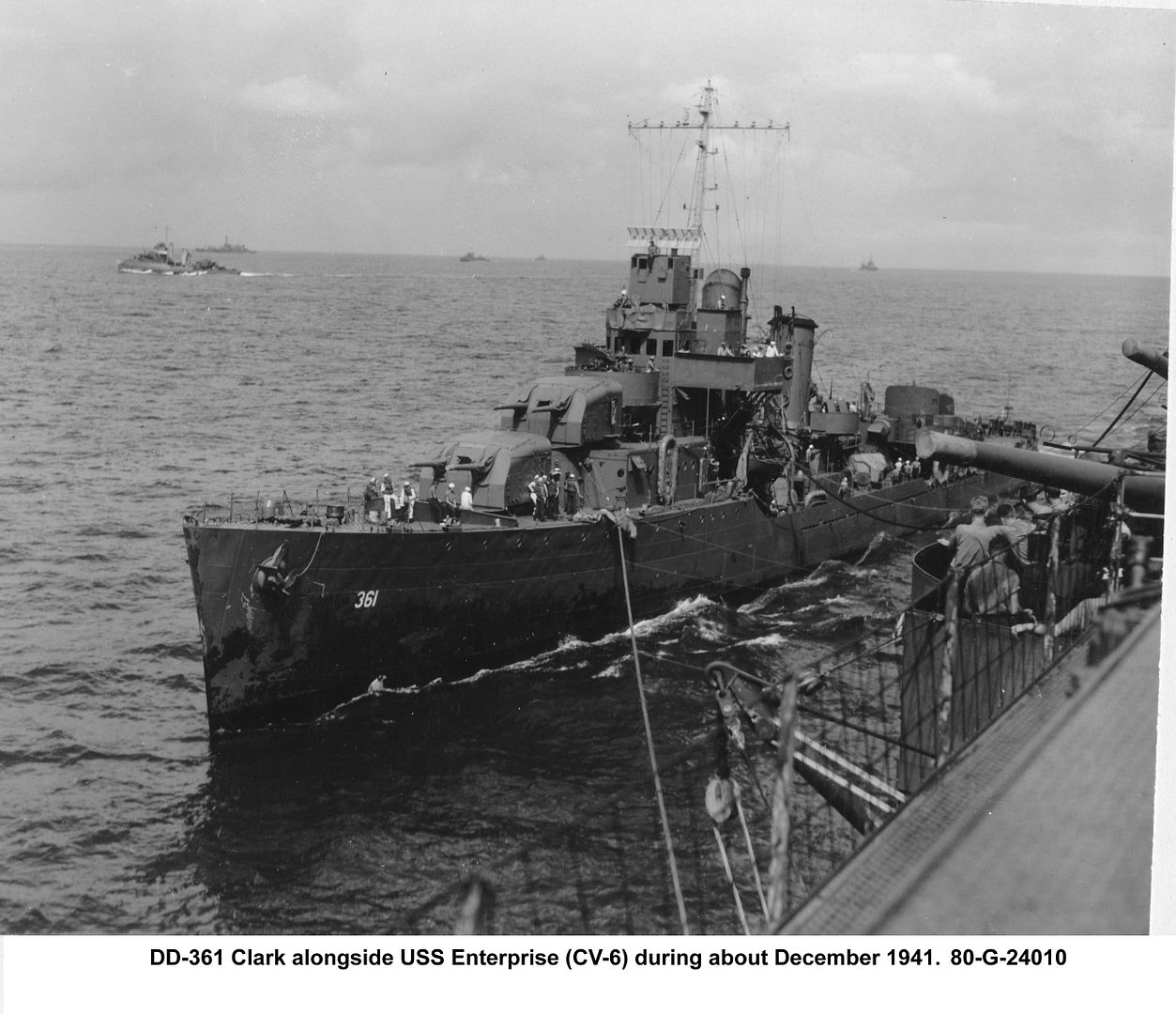 Revised on 5 August 2021 with additional images and notes.