Fliger747 wrote:
What is the latest thought on Hood's armor and the "fatal hit"?
Based on the range and the German gunnery tables, the shell trajectory would be somewhere close to 14 degrees below horizontal. This has been known by people seriously interested in Hood for a good while, but like all sorts of misinformation, myths like "plunging fire" are oft repeated and very difficult to kill.
Hood's deck armour wasn't weak per se - it was a multi-deck system. What it lacked was one very heavy deck. The main belt armour was 12" thick and covered the waterline to just above the magazine roof. Above this was a 7" armour up to the next deck and 5" above to main deck level. Round-downs at 45% within the hull should have protected the interior from oblique shots but these were light at 2" compared to 4" (I think) on the Queen Elizabeths. This was planned to be upgraded at the refit that Hood kept being passed over, mostly because she was still the warship least in need of it other than the Nelson class and until the KGVs were commissioned.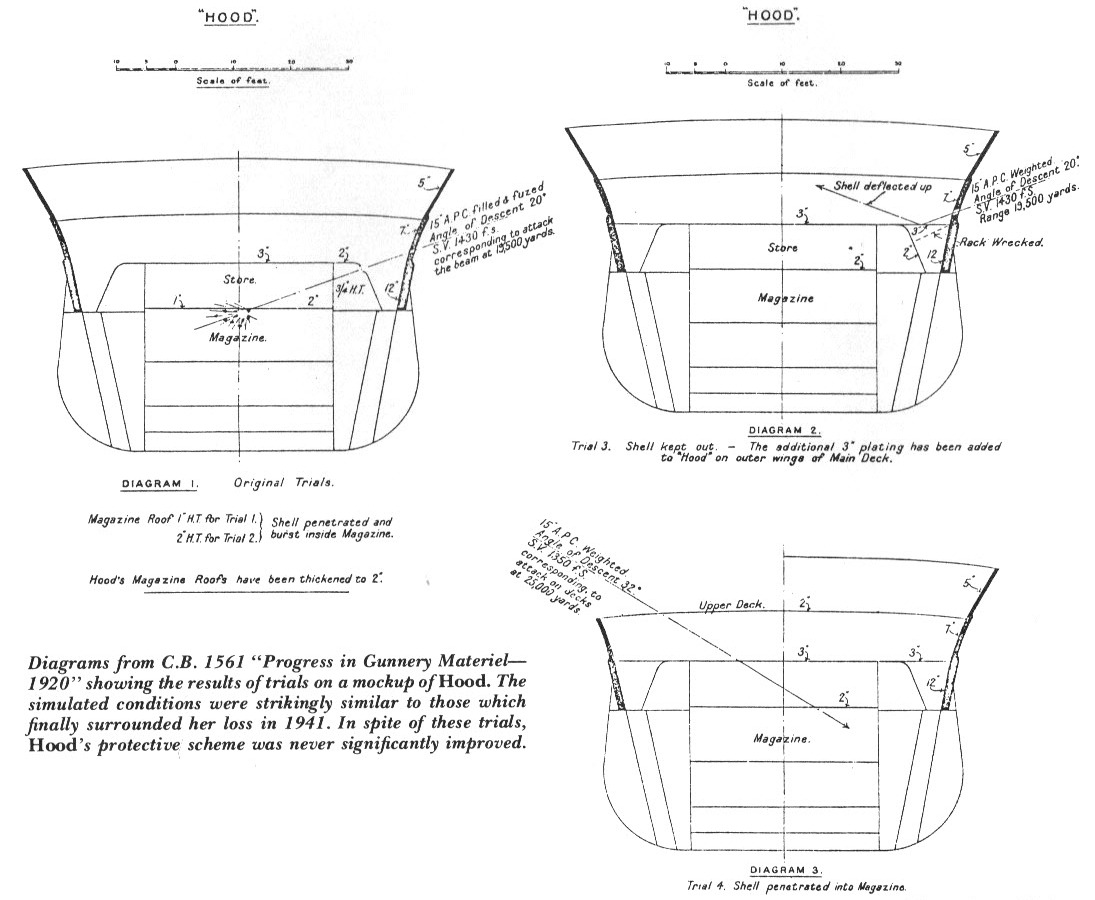 Hood was
very
heavily armoured overall with over 32% of her displacement attributed to armour - this was ground breaking stuff and she was, overall, more heavily armoured than any battleship at the time. There's a school of thought that she only retained the Battlecruiser classification because the Royal Navy was traditional, and that's how she was initially laid down, and she was clearly too fast to simply chug along in battle line. She was absolutely not a 1911 "Invincible" repeat.
Whilst the German gunnery was erratic at best, Hood's final turn appears to have corrected the range for Bismarck and the final hit penetrated close to the mainmast through the 7" armour and reached NOT the 15" main magazine but the adjacent unarmoured 4" magazine which had been expanded in a previous minor refit. At the outbreak of war the dubiety of this expansion was raised and this work too was to be undone at the next refit.
There was no massive explosion, no secondary explosion of the forward 15" magazine or anything like that. There was an updraft of smoke through the deck ventilators from the engineering spaces and tall column of red, hissing flame appeared vertically from the boat deck. Overpressure from the rapidly expanding gases generated by the aft magazines burning blew out the plating amidships and broke the keel. According to Ted Briggs' account, the commanding officers didn't even appear to realise what was happening behind them to the hull. The helmsman called "Steering's gone!" and was answered with "Very good. Switch to emergency steering."