Here is another example of how CAD modeling can help with creating a physical model.
In the 1960s the US Navy began installing a FAST (Fleet Automated Shuttle Transfer) system on ammunition ships and missile cruisers. When operating correctly (rarely, if ever) it could transfer a missile every 90 seconds.
We had a FAST crane on the
USS Oklahoma City
CLG-5 when I was aboard, but it didn't work. It was removed in mid 1971. This set the date for my 1:96 model of the ship - I wanted to include the FAST crane.
Unfortunately, I have never found drawings or blueprints showing dimensions of the thing, and the last one went to the scrapyard or the bottom of the sea decades ago. So I had to work only from photographs. I had a few closeup photos, but they didn't show all of the thing. I have a dozen or two fuzzy images taken from a distance that show some additional detail.
Working from these photos I was able to determine the approximate height, length and width of the assembly. Over a period of 39 days I made 48 pages of sketches with "photoguestimated" dimensions, and slowly built up the 1:1 scale CAD model piece by piece. I tried to get at least six sets of dimensions for every part from the photos. These were averaged, and then corrected to the nearest 1/4, 1/2 or whole inch (the original was built in feet and inches).
Because I was guessing the dimensions, I had to change some parts several times when newer pieces just didn't fit with other parts created earlier. I don't know how many times I reworked the catwalk at the top! This is probably the greatest advantage of CAD - no material wasted if you make a part incorrectly. However, the amount of time lost from restarting is about the same.
The test of accuracy of the model came when I placed it on top of the missile house and used it to create an operating diorama. I had to reposition the assembly a bit from my first guess position (12" 1:1 scale) in order to align it with the missile strikedown hatches, but the assembly worked pretty much like the real thing for positioning missiles over the strikedown elevator! So the dimensions must be close. Now I can make 2D drawings (maybe the only such in existence?) and build my 1:96 scale model with confidence that it will be "right" (well, approximately right) the first time.
Attachment:
File comment: This is a photo of the FAST gear on the OK City.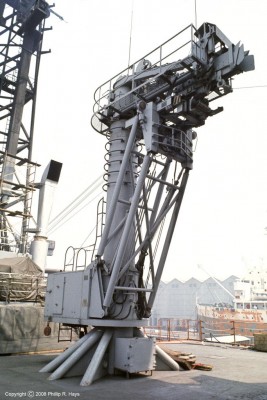 CLG5 FAST gear 1024 C low res.jpg [ 144.31 KiB | Viewed 8987 times ]
Attachment:
File comment: Here is an image of the CAD model.
FAST crane 30 Mar 2011 1 1024 C low res.jpg [ 120.46 KiB | Viewed 8987 times ]
I won't post more images here. You can find more pictures at this location:
http://www.okieboat.com/CAD%20miscellaneous.html
Phil